1220 Park Street, Peekskill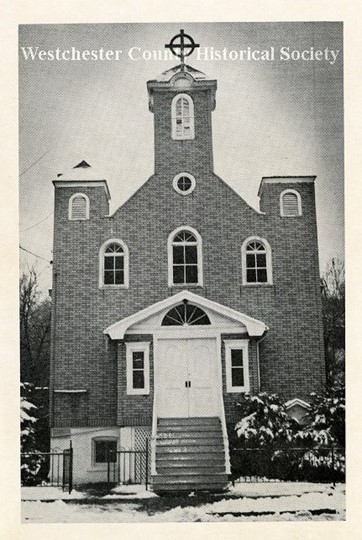 Built by formerly enslaved persons in 1852, the Park Street American Methodist Episcopal (AME) Zion Church was part of the Underground Railroad. At the time of the church's construction, New York State was nearing a quarter century of abolition. However, the United States as a whole would not follow suit for another eleven years. Due to Peekskill's proximity to the Hudson River, individuals fleeing slavery could travel northward by boat from New York City (a distance of about 50 miles) and follow Macgregory Brook to over twelve safe houses located within the town.
The AME Zion Church was one such safe house. Due to the secrecy of the Underground Railroad, little is known to date about the specific location except for the fact that individuals were hidden behind a fake panel near the pulpit. Speaking on this and the power of oral traditions, past President of the Westchester African-American Historical Society, Ms. Moshier said, "It was so unspoken that people weren't knowledgeable of it. But my Sunday School teacher at the A.M.E. Zion Church told us stories of that very building being a safehouse for fugitive slaves."
One member of the church with a prominent role in the Underground Railroad was Hawley Green. Along with his wife Harriet, he owned a house at 1112 Main Street, Peekskill, which also served as a safe house. A barber by trade, Green gained knowledge about runaway individuals through community members that came to get their hair cut. At one time or another, other members of the AME Zion Church included Henry Ward Beecher, Sojourner Truth, Frederick Douglas, and Harriet Tubman, all of them nationally renowned abolitionist figures.
To this day, the legacy of the Underground Railroad is alive and well in Peekskill. In 1984, Richard E. Jackson became the first African American mayor in the history of New York State. The city government regularly runs a Harriet Tubman Underground Railroad Tour whereby participants can visit various locations throughout Peekskill. In December of 2020, the City of Peekskill also sponsored the year-long acquisition of Wesley Wofford's nationally touring statue of Harriet Tubman.
Park Street AME Zion Church remains a thriving religious community. In February of 2021, the church held a "Celebration of Life for Harriet Tubman." Services are held every Sunday from the same pulpit that formerly enslaved individuals sought safety from.
Getting there:
Take the Metro-North Train (Hudson Line) to Peekskill. Walk 10 minutes (0.4 miles) to the bus station at the intersection of Washington Street and Hudson Avenue. Take the 14 bus towards Cortlandt Town Center. Get off at the intersection of Main Street and South James Street and walk 5 minutes (0.2 miles) to the Park Street AME Zion Church. Or, simply walk from the train station, via Central Avenue and Park Street, all the way to the church (1.1 miles, a 23-minute walk).
To learn more:
Park Street AME Zion Church Facebook page.
---
John Gaston, International Studies, Class of 2022.