590 Nepperhan Avenue, Yonkers
In the 1970s and early 1980s, the Playroom was Westchester County's most prominent gay bar. In 1973, Marty Chinitz, a gay man in his early 30s, borrowed money from his mother to open the establishment; at the time, it was the fifth bar in Westchester County to cater towards a mostly gay clientele. Opening night boasted a crowd of some 200 men and women packed into the tiny bar; it included performances from local drag queens, music, and dancing.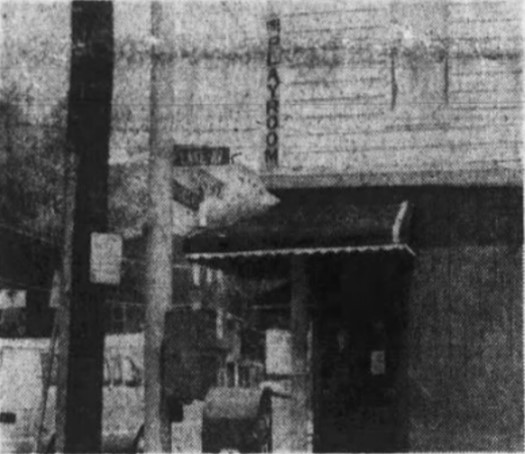 Located in a factory-filled section of Yonkers, the small club's checkerboard dance floor was "the size of a postage stamp," according to one former patron, and was surrounded by steps where people could catch a break from the crowded floor. Off to the side was a bar with signs advertising drinks and meet-cute messages; "Special: Flaming Fa**ot: $2" and "say hello to the man next to you," for example. The Playroom served a racially diverse clientele, and its patrons were typically more or less equally composed of men and women.
Yonkers in the 1970s and early 1980s was, as one Playroom patron described it, "as homophobic as it gets." This homophobia manifested a problem throughout much of Westchester County. Just five years before the Playroom opened, police raided Fenimore Circle, a male-only gay bar in Mamaroneck, a town some 10 miles away from Yonkers; they arrested most of its patrons for frivolous reasons and stripped the establishment of its liquor license. In 1975, the Night Owl, a gay bar in Valhalla, closed its doors after someone shot out its front windows; shortly thereafter, a fire also broke out near the bar's front door.
The Playroom itself was not immune to acts of homophobic violence. In two separate incidents in June 1978, three teen boys badly beat up and robbed men they had met inside the bar after luring them outside under false pretenses.
In addition to outright homophobia from the public, the Playroom also had to worry about the police. Around the time of the bar's opening, Marty Chinitz was concerned about publicity, fearing that outrage from the city's straight population would lead the police to find an excuse to shut him down. One former patron reports witnessing Marty paying off police officers to leave his establishment alone.
Both Yonkers and Westchester County have changed considerably since that time.
In December 1999, the Westchester County Board of Legislators passed a broad anti-prejudice bill prohibiting discrimination based on sexual orientation. In 2011, Michael Sabatino, a former patron of the Playroom himself, became Yonkers' first openly gay city-councilman; two years later, he became the Minority Leader of the City Council. Today, Yonkers has an annual Pride Festival that celebrates Yonkers LGBTQ+ community, the organization also hosts weekly community mixers and events.
In 2008, the building that once housed the Playroom, which closed in the mid-1980s, was demolished. Today, a Dunkin' Donuts sits on the site. As of this writing, there are no designated gay or lesbian bars in Westchester County.
Getting there:
From the Glenwood (Metro North) train station, a 1.1-mile (24-minute) walk. Various Bee-Line bus routes also pass by the site.
To learn more:
Judd Cohen, "At Bar They're All Customers." The Herald Statesman, May 7, 1973.
Bruce Frankel, "Gay Bar Provides Oasis from Outside Prejudice," Mount Vernon Argus, April 7, 1982.
Bill McBean, "Several Area Taverns Cater to Gay Clientele," The Herald Statesman, May 7, 1973.
Eric Nadler, "For Gays, the Fight Goes On… Literally," The Herald Statesman, July 20, 1978.
Diana Scholl, "Vibrant But Invisible: Gay Life in Westchester County." Westchester Magazine, April 19, 2011.
Additional articles from The Herald Statesman, Mount Vernon Argus, and The Yonkers Tribune.
Acknowledgments:
A special thanks to Michael Sabatino and several subscribers of The LOFT: LGBTQ+ Community Services Center's "Silver Connections" newsletter for sharing stories of their experiences at the Playroom.
---
Harper Navin, Class of 2026.