104 Alexander Street, Yonkers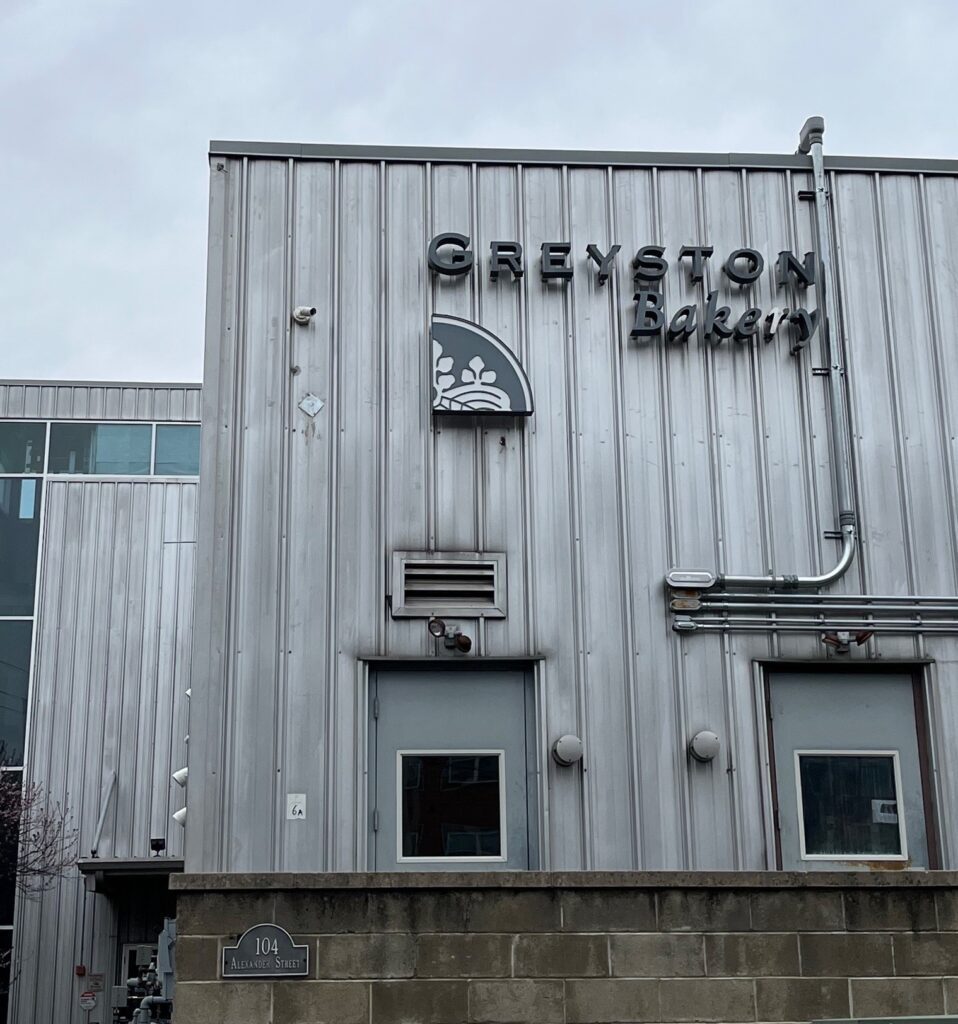 "Bad for the hips, good for the soul" is the usual maxim used to discuss brownies. But Greyston Bakery, a company located on Yonkers' waterfront, is adding a new one to the mix: "We don't hire people to bake brownies; we bake brownies to hire people." This is the guiding principle of the social justice-oriented business.
The company grew out of a trip to a Zen community's bakery in San Francisco, California by Bernie Glassman. Soon thereafter, Glassman and his fellow members of Zen Community of New York (ZCNY) opened their own bakery in the Riverdale section of the Bronx as a way to fund their community. At the time of the enterprise's opening in 1982, the City of Yonkers claimed to have the greatest rate of houselessness of any city in the country. Glassman was eager to make a difference and extend his work beyond the Zen community and so, in 1986, ZCNY moved its operation to Yonkers at the invitation of the city's mayor.
The community set-up shop in Southwest Yonkers in an old lasagna factory at 114 Woodworth Avenue, until moving to a new factory at its current location in 2003. Through its work, Greyston Bakery has been supporting the Yonkers community through a novel business tactic called open hiring.
An open-hiring policy offers employment to individuals who otherwise might have difficulty gaining employment. This means that there are no job interviews, no background checks, and no drug tests. Instead, there's a short intake form that asks for contact information, and availability. After that, in the case of Greyston Bakery, names are added to a waitlist, and it's first-come, first-served when a position opens. The result, as president and CEO Mike Brady elucidates (Glassman left the bakery in the mid-1990s), is a shift from a focus on the worker's past towards a greater appreciation of the possibilities of the worker's future.
Greyston Bakery has had impressive success. As of 2022, it had 120 employees, 80 of whom got their positions through open hiring. The company provides the brownies for the ice cream produced by Ben and Jerry's (which now uses open hiring as well). Meanwhile regional and national supermarket chains also stock its products. The company has been profitable since 2011, but directs all its earnings towards its non-profit, the Greyston Foundation.
As the Foundation explains on its website, it reinvests the profits "into the bakery and development programs for our Open Hire bakers and the underserved members of our community with barriers to employment." Among those who face such barriers are the formerly incarcerated, 27 percent of whom are unemployed nationwide, totaling 1.3 million people. It is for such reasons that the Foundation developed the Greyston Employment Opportunity Center, a program that works to provide job training and opportunities across southwest Yonkers, in 2009. The foundation also runs community programs that provide supportive housing, and community gardening opportunities.
Following Greyston's lead, open hiring is catching on, with companies such as the Body Shop, IKEA, and regional grocery chains like Giant Eagle implementing their own versions of the policy. These corporations have looked to Greyston for guidance in enacting these policies, working with the Center for Open Hiring, a Greyston-affiliated organization.
If you walk to Greyston Bakery, which sells baked goods to visitors, there's a good chance you will smell the brownies well before you get there.
Getting there:
From the Yonkers (Metro North) train station, a 0.3-mile (7-minute) walk.
To learn more:
"The Bakery and History," Greyston Bakery website, undated.
"Brownies from Greyston Bakery," Ben & Jerry's website, undated.
Jim Fitzgerald, "Maya Lin's Sweet & , The Washington Post, October 7, 2003.
Kieron Johnson, "Greyston CEO shares six reasons for your company to consider open hiring in 2023," CEO Magazine, January 18, 2023.
Deborah Leipziger, "Greyston Bakery: Combating Poverty by Making a Profit," The Aspen Institute, December 18, 2013.
Ian T. Macaulay, "Zen Group Aiding Homeless in Yonkers," The New York Times, April 17, 1988.
Christopher Marquis, "How a Bakery Is Breaking Down Barriers to Employment Through Open Hiring a Job-Development Programs," Forbes, June 4, 2021.
"Our Mission," Greyston Bakery website, undated.
Tina Rosenberg, "No Background Check, Drug Test, or Credit Check. You're Hired!" The New York Times, May 29, 2019.
---
Norris Meigs, Geography and Italian, Class of 2023.