207 Carpenter Street, Newburgh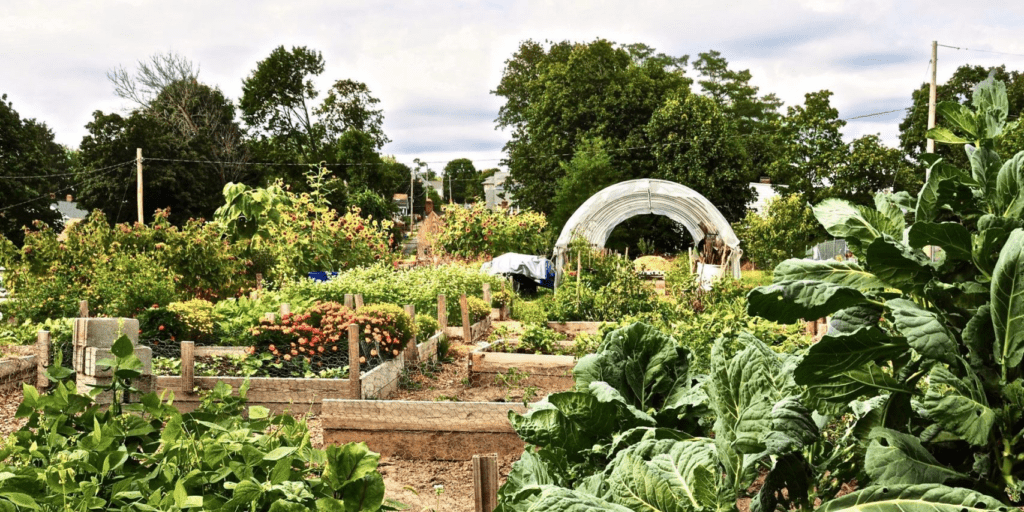 In 2015, the Newburgh Land Bank received a U.S. Housing and Urban Development (HUD) grant to restore activity at the area of Downing Park where the Newburgh Greenhouses once sat. The following year, Newburgh Urban Farm and Food Initiative, a loose collaboration of community organizations and residents, started the Downing Park Urban Farm (DPUF). Today, DPUF is one of over a dozen community gardens in the city. Others include the Newburgh Armory Community Garden, The People's Garden, and Grand Street Community Garden.
Connected to historic Downing Park by a bridge over South Street, Downing Park Urban Farm currently sits on half of a city block. The Newburgh Greenhouses that previously occupied this space produced flowers and shrubs for Downing Park. However, as of 2015, these greenhouses were in a state of disrepair.
Residents in 4 out of 6 Newburgh Census tracts are subject to food insecurity. The United States Department of Agriculture (USDA) classifies these 4 tracts as food deserts. A food desert is an "area where people have limited access to a variety of healthy and affordable food." With poor public transportation and a taxi ride to the nearest supermarket costing upwards of ten dollars, Newburgh Land Bank, a non-profit organization with goals of strengthening the Newburgh community, thus looked to bring healthy food to the center of the city. The data seemed to suggest, at least to a USDA team, that the introduction of urban community farms could mitigate Newburgh's limited access to healthy foods.
Downing Park Urban Farm is part of the broader Downing Park which was previously the Smith family farm. The City of Newburgh acquired the land in the 1880s. Designed by Frederick Law Olmstead and Calvert Vaux (who also designed New York City's Central Park), Downing Park opened to the public in 1897. Newburgh dedicated the park to the life and work of horticulturist, and major public park advocate, Andrew Jackson Downing.
Since its opening, Downing Park has served as a location for an ice skating rink, public concerts, and housing for those suffering from smallpox. Thanks to the park, and to other green spaces like it, 89 percent of Newburgh residents live within a half mile of a park and can enjoy a total of 269 acres of parkland throughout the city.
While continuing the legacy of communal green space, DPUF has broadened the scope of Newburgh's use of green, public space and who, and how it impacts the city's residents. The farm donates much of its produce to local food pantries and soup kitchens. From 2016 to 2019, the DPUF gave over 8,000 pounds of produce to the Newburgh community. In 2020, in the context of the Covid-19 pandemic, the farm provided 15,000 pounds of produce to the city's residents, 5,000 of which was grown on site and the rest came from produce grown by local and regional farmers, as well as excess produce from other food distribution programs in Newburgh. Additionally, to help fund the organization's activities, DPUF sells produce at the Newburgh Farmers Market.
In addition to producing food, the organization conducts community programming and educational workshops to provide individuals the tools to sustainably grow their own food. Moving forward, NUFFI has plans to build a high tunnel (a greenhouse-like structure) which will drastically lengthen its growing season.
Getting there:
Take the Metro-North train (Hudson Line) to Beacon. At the station, take the Stewart Shuttle to the Grand Street and South Street stop in downtown Newburgh. From there, it is an approximately 13-minute (0.6 mile) walk.
To learn more:
Newburgh Urban Farm and Food Initiative
---
John Gaston, International Studies, Class of 2022.