127 South Broadway, Yonkers
In May 1995, both The New York Times and The Village Voice reported on a patient in the psychiatric ward of Saint Joseph's Medical Center: Sylvia Rivera. Sylvia had sought refuge in the medical facility after an attempted suicide in the Hudson River. Her presence there manifested the important care that St. Joseph's was providing to individuals struggling with mental illness. If Rivera's experience is any indication, St. Joseph's staff was welcoming to all–including people of diverse gender expressions.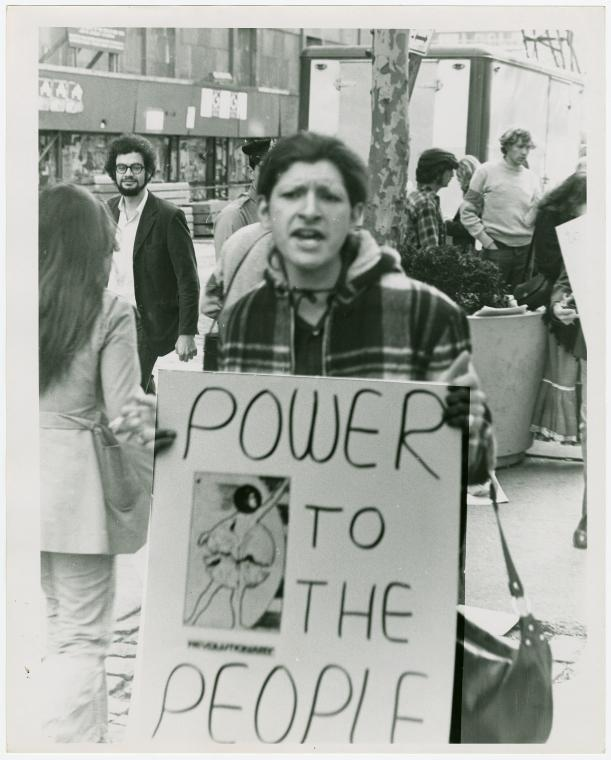 Born in 1951 in New York City and an orphan by the age of three, Rivera was raised by a grandmother until the age of ten, when she ran away, and wound up living on the streets of New York. By the age of 18, she was active in the Gay Liberation Front, and would soon become an iconic figure in the gay rights movement. She was most known for standing up for the rights of trans people and drag queens, who, at `the time, faced discrimination and exclusion from cisgender queer folks in the movement.
In June 1973, during the Christopher Street Liberation Day Rally at Manhattan's Washington Square Park, Rivera delivered a brief speech that has become known as "Y'all Better Quiet Down." In front of a large crowd in which many were booing and jeering her, Rivera challenged her "gay brothers and gay sisters" to see beyond the concerns of middle class gay men and women and to create an inclusive liberation movement, one welcoming to all, particularly trans people.
While many in the crowd cheered Rivera's words, the opposition she experienced exemplified her marginalization in the gay rights movement as an outspoken trans woman and drag queen. It is believed that such experiences led her to move to Westchester County and largely give up on activism in the 1980s and 1990s.
During this time, Sylvia largely stayed out of the public eye, until she was sighted in Yonkers at St. Joseph's Medical Center in May 1995. In her interviews with The New York Times and The Village Voice, Sylvia explained that she had been living in a train boxcar sitting on a side railing near the Yonkers train station. She also admitted to her struggles with drug and alcohol addiction.
Sylvia's words to the New York Times reveal that St. Joseph's provided a safe space for her. Sylvia discloses from the day room of the psychiatric wing that "It's not bad here. They don't care if I do myself up, and everybody here, including the psychiatrist, calls me Sylvia. Once, years ago, I was in Bellevue, and the psychiatrist there kept telling me I was Ray. It seemed to be really important to him that I was Ray and a man."
The Sisters of Charity of New York first established St. Joseph's Medical Center in 1888, on the property of the former St. Aloysius Academy for Boys (at South Broadway and Vark Street). Another hospital established years prior in 1879, by the Sisters of Charity, St. Vincent's Hospital in the town of Harrison, was the first hospital in New York State to care for the mentally ill. Mental health was (and remains) a priority of the Sisters of Charity across all of their branches in Westchester County and New York.
Though her time in Yonkers may not be well documented, from the information we do have, it seems that Sylvia Rivera at least found a space to feel comfortable as herself. In the late 1990s, she returned to New York City and moved into Transy House–modeled after STAR (Street Transvestites Action Revolutionaries) House that she had co-founded in the East Village in 1970–in Park Slope, Brooklyn. She also reconciled with the gay rights movement that was beginning to embrace intersectionality and embrace LGBTQ+ people in their diverse expressions. In the early 2000s, while battling liver cancer, Rivera protested New York State's Sexual Orientation Non-Discrimination Act (SONDA) for not including protections for trans people.
Sylvia Rivera died in 2002, several years after making a grand return to activism. Perhaps it was at St. Joseph's where she found the time and space to heal and the motivation to return to the fight for causes that mattered so deeply to her.
St. Joseph's Medical Center continues to stand in downtown Yonkers. It provides services to people at sites throughout Westchester County and New York City beyond its complex in downtown. It has satellite clinics in Yonkers, White Plains, Port Chester, Brooklyn, Queens, and Staten Island.
Getting there:
From the Yonkers (Metro North) train station, a 0.6-mile (13-minute) walk
To learn more:
Michael T. Kaufman, "Still Here: Sylvia, Who Survived Stonewall, Time and the River." The New York Times, May 24, 1995.
Michael Musto, "Lost in Yonkers: Sylvia Rivera May Be the Rosa Parks of Gay Rights. But on the Streets, She's Just Another Homeless Queen," The Village Voice., May 30, 1995.
Emma Rothberg, "Sylvia Rivera," National Women's History Museum website, 2021.
Saint Joseph's Medical Center website.
Samantha Riedel, "How to Honor Sylvia Rivera's Legacy," them, November 13, 2019.
---
Violet Munnelly, Geography-Anthropology, Class of 2023.